Biography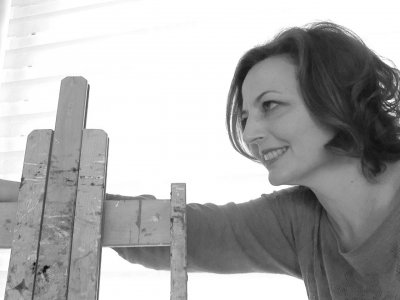 Alexia Spanoudaki was born in 1975. She studied Architecture at the National Technical University of Athens. She holds a Master's Degree from the Bartlett School of University College London. She also received a scholarship from the State Scholarships Foundation (ΙΚΥ).
Strongly driven by her architectural background, Alexia Spanoudaki is known for her distinctive colour-code, her cycladic geometrical minimalism and personal style in the use of spatula that instantly catch the viewer's eye.
In Greece, she has participated in various group exhibitions at the Goulandri Natural History Museum, Enigma Gallery and Tsichritzis Visual Arts Foundation, while she has presented her work in three solo exhibitions at Melanithros in Athens, Open C.A.S.E. 303 in Kifissia and Astikon-Festival d'art d'été in Kythera Island. She has designed the prize trophy of the Greek Graphic Design and Illustration Awards and has illustrated the book "A Fairy Tale Even For Young Children" (Athens: En Plo Editions, 2006). Her works can be found at the Tsichritzis Visual Arts Foundation in Kifissia, Enigma Gallery in Kifissia, Theorema Art Gallery in Brussels and in private collections in Greece and abroad.