Biography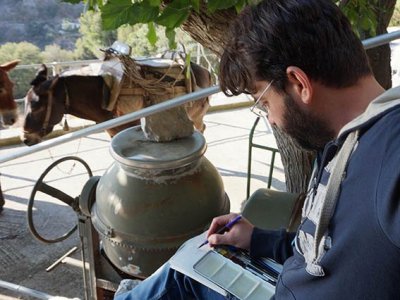 Christos Baloukos was born in Athens in 1977 and he lives and works in Halandri.
He studied graphic design and Iconography and as a professional graphic designer he owns BestPrint in Halandri since 2006, a company specialising in invitations (www.bestprint.gr).
He has undertaken many advertising projects in collaboration with Greek and multinational companies, but also with the public sector. For the last few years, he makes the graphics for many TV series. He also undertakes illustrations as a freelancer.
He has loved painting since childhood, and has developed next to exceptional artists. The materials that he used is oil paints, watercolour and ink.
Some main features of his work is the limited palette 3 plus 2 color, painting with palette knife who creates beautiful texture and of course the fresh watercolors with color depth.
STUDIES
1995-1998 Graphic Designer from IEK DOMH
1995-1998 Painting study with the engraver Akis Pirounidis and the painter Basilis Stavrou
1998-2000 Drawing & Painting study with the painter Stefos Nikolaos
2001-2005 Iconography with the artist Irene Koutridou
Training and experimentation continued with a variety of workshops.