An open window
Prints
Description
black & white linear design | signed | black wooden frame
•• The story behind the design
Inspired by a window with big stones on one side. 
•• The series & details
Minimalist artwork with small black shapes and lines against a large white surface. Ideal for walls that want to achieve a cool Nordic style.
Part of the ''Tinos'' series, a collection of minimal designs for people who love simple lines and have fallen in love with the simple beauty of the Greek islands. 
Artist
Alexandra Papadimouli
Size
29.5 x 23 cm (with frame)
About the artist:
Alexandra Papadimouli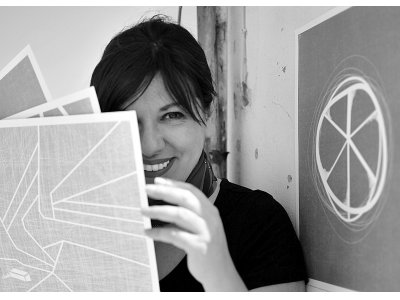 Alexandra Papadimouli was born in 1973 in Athens, where for the last 20 years she has been working as a graphic designer. In 2015 she founded "theRoundButton" a small company that designs and produces decorative and other objects. Living between Athens and Tinos island, the designer collaborates with architects & decorators, customizing her designs for homes, hotels and office spaces. 
The creative process for Alexandra starts while strolling around the island's most special places, in order to discover architectural shapes and natural elements that can be later redesigned in minimalist style and applied to the products she designs. 
If she had to give a name to her design style, that would be Scandinavian-Greek: a combination of clean forms and practical beauty. In her own words "...I would like my designs to find their way to the homes of people who love the Aegean as much as I do, and to the homes of visitors who want to take a memory of it with them..."