''Big Drops'' Earrings
Decorative Art
Description
METAL / ALPACA - BRASS
About the artist:
Evita Gavriil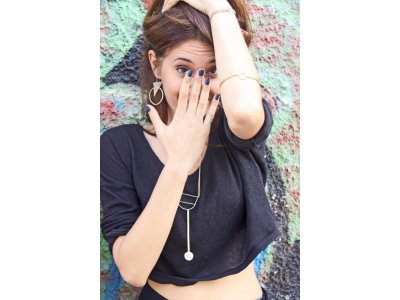 Evita Gavriil is a visual artist and a jewellery designer. Her love for arts and crafts started when she was a child. In those days, she had built a fairytale worl­d of creativity where she felt safe surrounded by beautiful colours and materials.

When she grew up, she decided to pursue her creative passion by studying Graphic Design at AKTO School of Art & Design in Athens, Greece. Following her love for art, she continued her studies at the Athens School of Fine Arts, studying painting, sculpture, photography and graduated with distinction in 2012.

Evita now lives and works between Athens and London splitting her time between creating her art work, teaching, and designing her jewellery collection. Collaborating with yacht companies and nursery schools as a visual artist and decorator. She has participated in many exhibitions with both paintings and art installations. Working independently or collaborating with other artists. Her base in Athens is in Nea Smirni where Evita teaches art to children whilst also creating her own art projects. In 2014, she co-founded the Painting School where she  teaches sketching and painting to children and young adults who wish to prepare for Fine Arts School entry exams.
Her creative spirit and her love for design have led her to design her own jewellery collection. She started by crafting a few pieces for herself and her friends, which then led to her developing a truly unique style.
Her jewellery designs are made with alpaca, bronze, and silver and are inspired by geometrical shapes and forms. Her minimalistic style reflects her artistic point of view and incarnates a delicate and fresh perspective on dynamic femininity.