''Quinta'' earrings
Decorative Art
Description
In Katerina's own words:
'' If you put the one earring facing the other, and look closely, you will see them in the macramé part. They are the corridors (quintas) that lead you from the inner-hidden part, to the stage. From the spot where you wait till the lights go out, so that you can go stand in the dark. Or you wait till you "hear " the moment you have to get onto the stage. So as the show begins...''
Handmade item
Materials: cord, satin cord, silver wire, silver 925
About the artist:
Katerina Vartzoka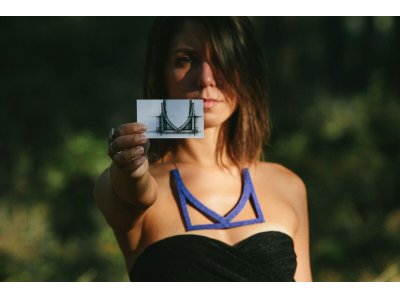 Katerina Vartzoka was born in 1990 in Kozani.
She is a graduate of the Environmental Engineering School of Crete's Technical University and is a current student at the Architecture Engineering School. She first started creating jewellery in 2014.
She is a self taught jewellery designer; teaching herself the macrame technique, and later through attending seminars on metal, she developed her skills. Her pieces combine both materials.
Her main influences are derived from architecture and dance which she has been passionate about since childhood and are evident in the shapes and moulds that she uses.
Sometimes strictly geometrical, and sometimes dynamic, the shapes that she uses create a distinctive vocabulary and a recognizable signature style.
The prior sketching of the jewellery, according to the influences mentioned above, and the afterward search for the way of implementation through the combination of materials, makes her jewellery aesthetically different from jewellery made with similar techniques.
An inseparable part of every creation is the name, and story behind each piece which comes from dance. Each piece is accompanied by a card explaining the story behind each creation as well as the sketch that led to the creation of that very piece of jewellery.